Jim

Nelin
Back-end developer and Server Technician
Hello! I am Back-end developer and Server Technician from Stockholm, Sweden. I'm a ninja at Linux, Web Development and PHP.
Skills och knowledge
Jim did an amazing job at keeping our server and internal systems running. I doubt i've met anyone who know more than him about Linux and security. He's also quite a web developer, and knows more than his share about server-side performance and complex, unusual third-party integrations.
System administration
Virtualization (Xen/KVM/VMWare)
IT and data security
Back-end development
Relational and NoSQL-databases
Front-end (HTML5/CSS3/JS/jQuery)
Drupal / Wordpress / Other CMS
Networking and routing
I also have knowledge and experience in everything spanning from microcontrollers and electronics to search engine optimization, marketing and social media. Mainly because I've had a huge interest in programming, tech, electronics, networks and communication in general since i was very little. The constant pursuit after new challanges have resulted in a wide field of experience and knowledge.

One of my biggest passions is advanced back-end PHP development, comminucation between new and/or existing services and platforms using APIs and protocols such as JSON/XML-RPC, REST and JSON. This includes implementation and development of payment solutions and services entirly built upon various APIs. There's something magic with making to separate systems collaborate and work together flawlessly. :)
Other
HE.net IPv6 Certification
Network and Routing
Download the certificate in PDF.
Certified by Hurricane Electric in IPv6. The test includes, among others, routing, tunneling, DNS-configuration and IPv6 deployment. Click on the image for more information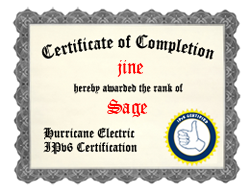 Personal and contact information
Work references available upon request. Please don't hesitate to contact me if you have any questions or thoughts. Thanks!


Send an e-mail first.
Jim Nelin
Härbrevägen 37
142 34 Skogås
Sweden
Thanks! Your message is sent, I'll get back to you as soon as possible.